About the Company
Booking Holdings Inc. is a travel technology company that owns and operates travel fare aggregators and travel fare search engines including namesake and flagship Booking.com, Priceline.com, Agoda.com, Kayak.com, Cheapflights, Rentalcars.com, Momondo, and OpenTable.
The
Problem
---
The Booking Holdings Compliance Department was looking to make their Code of Conduct more accessible to new employees and the general public.  Review of the Code of Conduct is an important part of the onboarding process for new employees, however the content was only available as a traditional PDF on the corporate website.  With the rest of the employee onboarding materials available in an application format, using the existing Code of Conduct PDF had become clumsy and time consuming. As a tech company, Booking Holdings is always seeking new, innovative resources to better engage its global employee-base. No resource is more important than the company's Code of Conduct, which serves as the foundation of its compliance and ethics program.  There was also an overwhelming need to meet employees in their increasingly mobile environment.
The
Solution
---
Partnering with Booking Holdings, KnockMedia set out to create an interactive and engaging native application experience.  Content was re-organized and optimized so users could quickly search and find what they were looking for.  A reward system was developed to incentivize reading the Code of Conduct.  Levels were created to aid the user along their journey.  As a user works their way through the Code of Conduct, they would "level up" starting as the Early Explorer, then an Active Adventurer and finally a Golden Globetrotter.

The
Results
---
The native application was approved and released to Android devices on the Google Play Store.  The application gives employees a mobile-first option to read the Code of Conduct and a convenient way to work through the onboarding process and materials.  From a management perspective, the open source Content Management System (CMS) Strapi was used "headless" due to its lightweight and robust architecture.  The client can easily update the contents of the Code of Conduct and publish immediately, a significant improvement from having to update and post a new PDF every time content needed to be adjusted.
Wireframes

---
Lot's of conversation and review of existing requirements documentation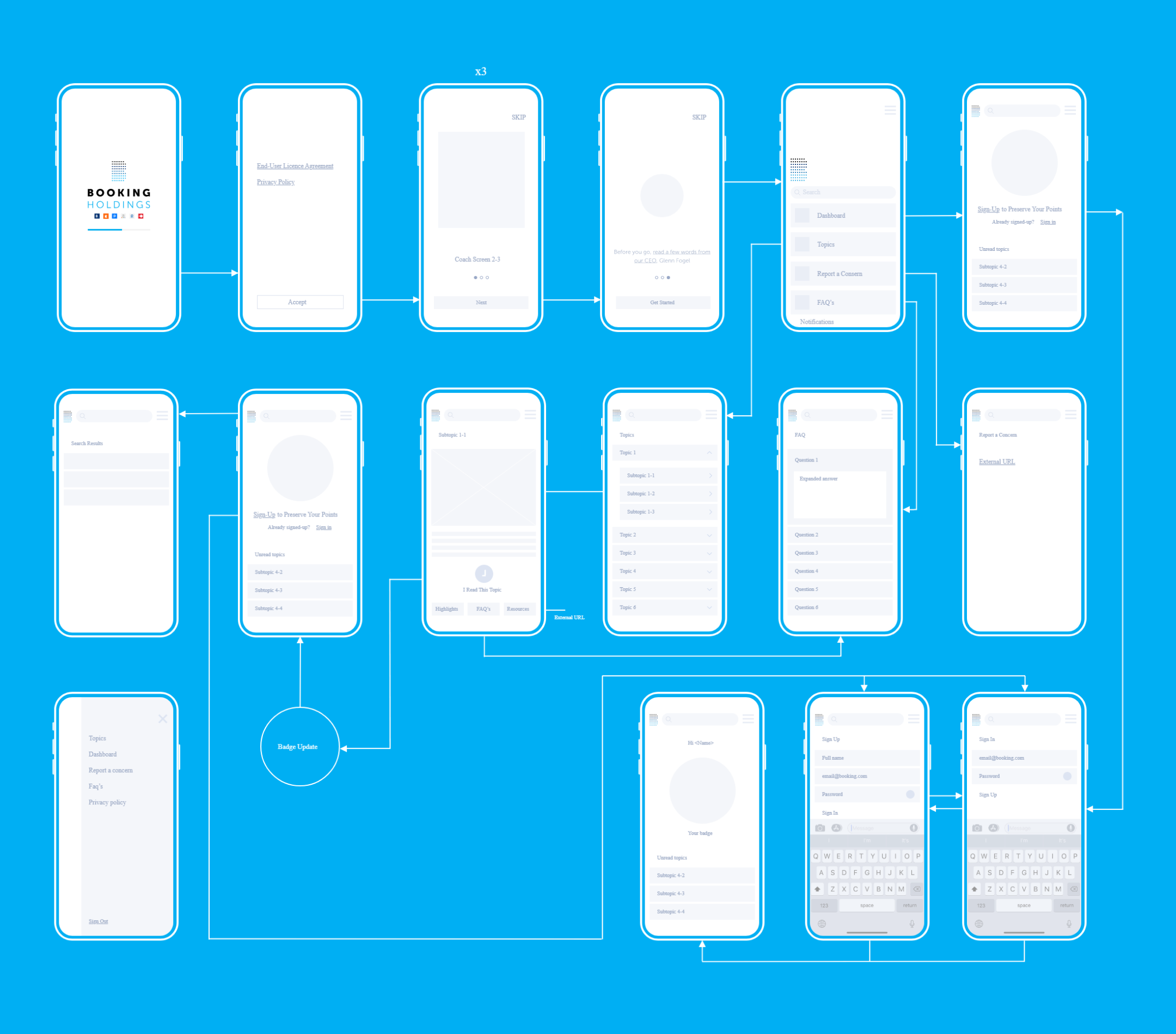 User Flows

---
We begin to depict the way the user will progress through the experience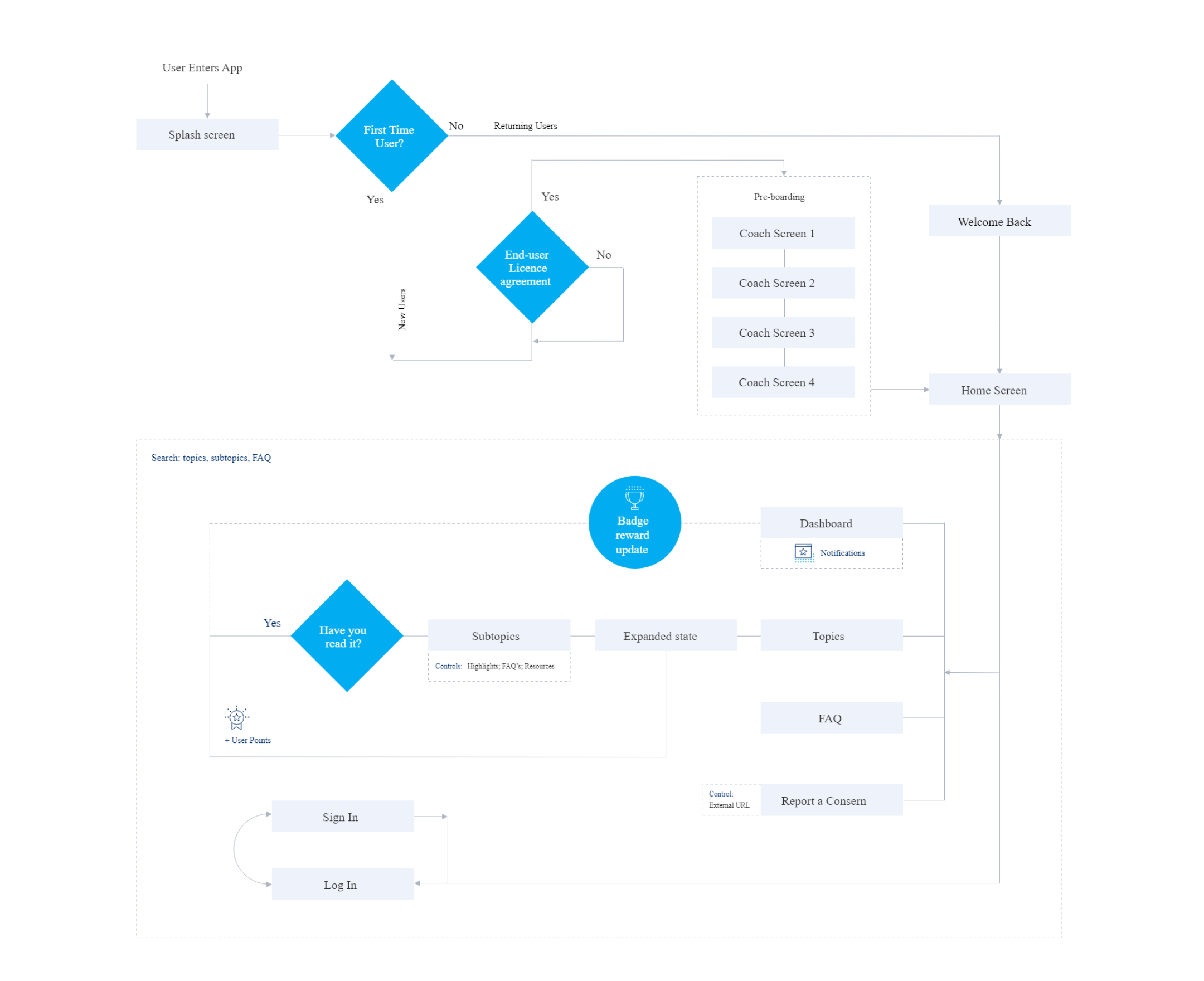 Screen Designs

---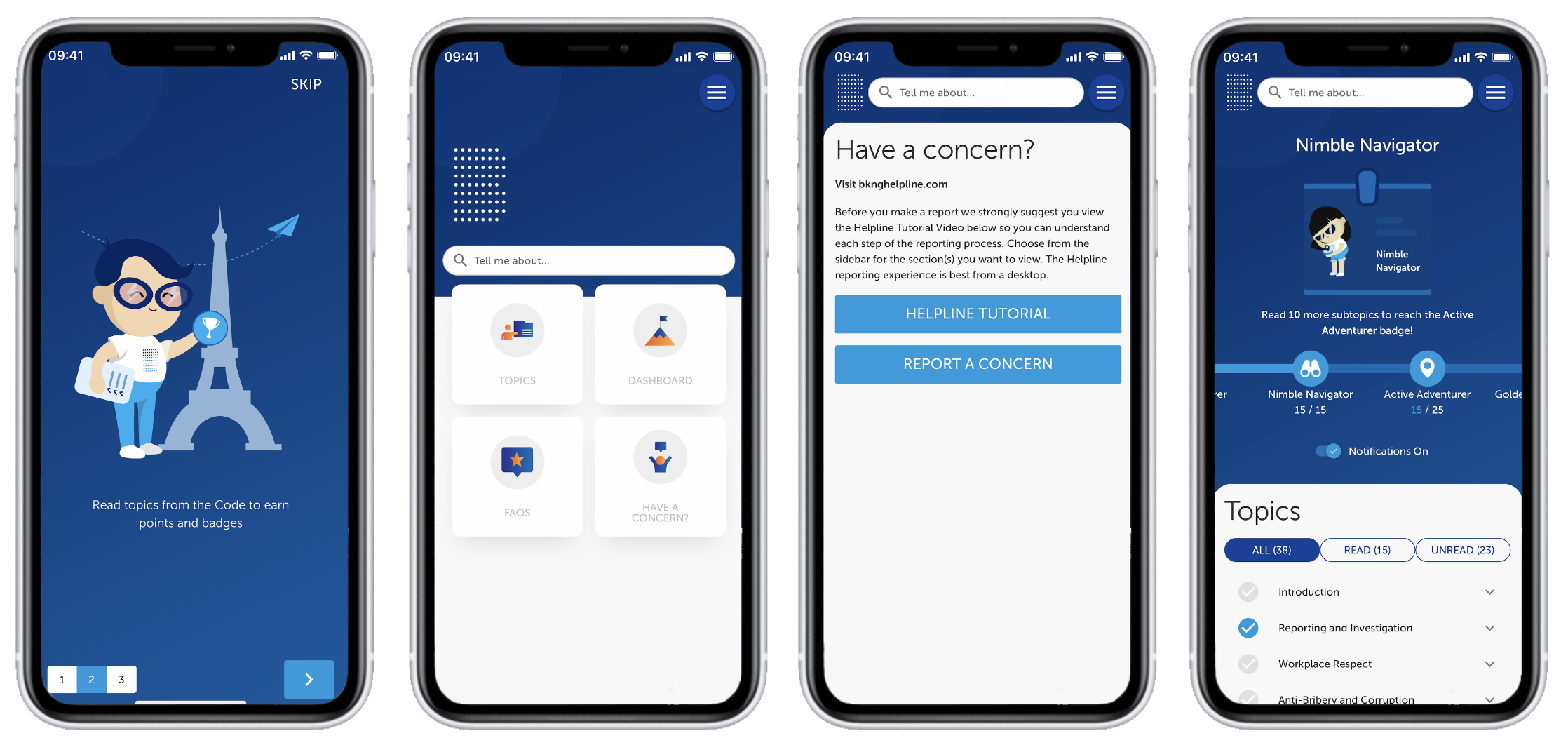 User Experience States